Data Recovery Services by Pure IT
Statistics indicate that around 40% of entities without a proper disaster recovery plan are pushed out of business upon major loss from sabotage, break-ins, or fire. Whether it is internal data storage or cloud, data recovery services are an indispensable business investment.
Losing crucial business and personal data is a real nightmare. The heightened reliance on digital data storage devices makes the loss even more unbearable. Data loss can be accidental, such as misplacing a storage device, burglary, or fire in the business premises.
Luckily, managed IT service providers come in handy to help the victims of data loss get back on their feet quickly. Data and data recovery services are, therefore, significant to any organization.
Business executives are spending sleepless nights, ensuring that their business and client's data is safe. The survival of a business hinges on its ability to store data safely but also recover it when it gets lost or damaged.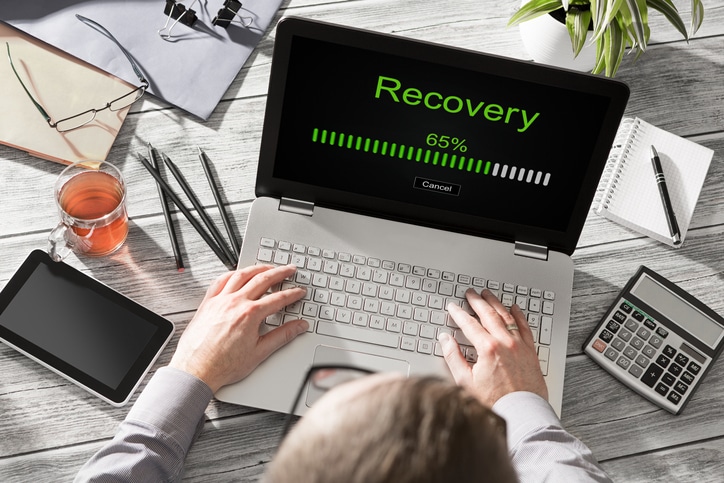 So, What is Data Recovery?
Data recovery involves retrieval of inaccessible files from back-up mediums in data loss events. Data retrieval help entities go back on track after an incident.
Why is Data Recovery Services Necessary?
Cost concerns are the main reasons why some organizations fail to set up disaster data retrieval solutions. Even so, businesses need to have the right data recovery plan in place. You never know when your business will become a victim of data loss.
The data recovery procedure is different from the disaster recovery method, but the data retrieval process is part of the disaster recovery approach. To know when you need data recovery services Calgary, it is vital to understand how data got lost in the first place. Business files can be lost through disasters and scenarios such as:
OS Failure
Accidental data deletion, operating system failure, and malfunction of storage media are common situations that need data recovery services. Copying files to separate drives like CD is necessary to back up the files. Technology experts partition the CD and store valuable information in replaceable and different mediums from the OS.
Corrupt Disk
Malware infections and drive failure lead to data corruption and eventual data loss, making it even harder to recover. The extent of media corruption dictates the quantity of recoverable data.
Part of lost data or the total percentage of lost files is, in some cases, restored. Getting help from reputable data recovery services Calgary is the first-choice option in the recovery process.
From a recent survey, 68% of reported data loss in organizations was caused by drive read issues and drive failure. Contact a managed service IT provider to repair the file system and install an antivirus to your networks and connected devices. Even so, recovering readable data is an ideal solution for permanently failed drives.
Data Deletion
Deleting files from their storage medium is another common cause for data retrieval. Luckily, the deletion process involves removing file references and not removing file details from the drives immediately.
An IT company offering complete managed services will retrieve deleted data files from the drives as they connect the multiple disconnected fragments.
Data Theft
Data theft is another common scenario in organizations that needs urgent data retrieval services. A recent study provided shocking revelations on statistics of data theft, as noted below:
62% of small and middle-sized organizations have experienced data theft.
Small establishments are incurring a loss of around $38,000 for a given data breach recovery.
Approximately 40% of the reported data breach cases were from external invasion.
How Does Pure IT's

Data Recovery Services In Calgary

 Avert Data Loss?
Factors that caused data inaccessibility determine methods for data recovery services Calgary to restore data files. Data inaccessibility could be due to logical or physical damage to a data storage device.
Remote data recovery methods are used when dealing with logical damage, like corrupt OS, media errors, and corrupted partitions. On the contrary, physical damage needs hardware servicing and repair to restore inaccessible data. In brief, these four data recovery steps are followed for both physical and logical corruption:
Hard disk repair
Imaging CD/ROM drives to a diskette image
Recovery of logical data files
Repair of restored damaged files repair
Why Engage a Managed IT Services Company?
A managed service provider provides numerous data recovery options that can be classified into:
Analysis and Diagnosis
Retrieval of the hard disk data file
Retrieval of server data
Data back-up plans
Other file recovery options
The data recovery options include File Recovery, iPad and iPhone Recovery, Photo and Image Recovery, as well as SSD Recovery and Mobile Recovery. It is essential to have a reputable Managed IT service provider who will recover lost data fast since the longer time it takes, the higher the cost to the business.
Final Word
Data recovery is a priority for all businesses regardless of their size. Luckily, managed IT service providers are pulling all stops to offer affordable data retrieval services compared to the outdated recovery solutions that require constant monitoring, servicing, and upgrading of storage sites.