Exemplary IT Procurement Services In Calgary
As a small- or medium-sized business owner, you probably wear many hats and already have so much on your plate. Therefore, having to worry about replacing your outdated technology or keeping tabs on the best price for new technology can be overwhelming. Besides, you don't need to break the bank to secure the latest must-have software for your business. Fortunately, Pure IT provides IT procurement services in Calgary to help your business bridge that gap. Our IT procurement services include ordering and purchasing IT equipment and solutions such as servers, networks, workstations, applications, and print devices.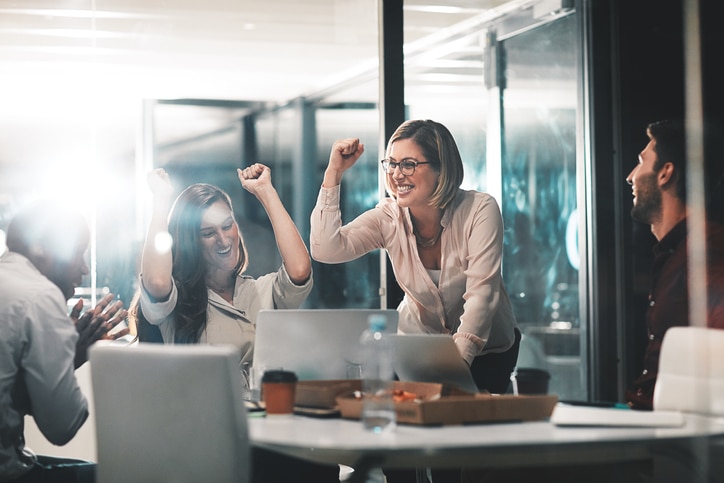 Why Get IT Procurement Services in Calgary?
IT procurement involves both administrative and strategic responsibilities. Our IT Procurement Services in Calgary includes the creation and management of requests for proposals (RFPs), requests for information (RFI), requests for quotations (RFQs), and managing supplier relationships.
Typically, our day-to-day tasks may include:
Carrying out market research.
Negotiating prices.
Resolving invoice discrepancies.
Establishing terms and conditions for IT services.
Communicating the status of various purchases with internal customers.
Pure IT utilizes the Information Services Procurement Library (ISPL) framework to manage your IT procurement. The standard framework is based on certain industry best practices that offer various management tools for chief procurement officers (CPOs) to understand and effectively manage complex categories of expenditure.
By outsourcing your IT procurement to Pure IT, you can keep your corporate technology running optimally and save costs. Besides, our IT procurement experts will help you determine and purchase the right technology for your business needs at the best possible price.
Benefits of Outsourcing IT Procurement to Pure IT
Regardless of your industry, procurement is key to your success. Pure IT can help you establish an effective procurement solution for all your IT needs. IT procurement can often quickly turn into more hassle than you can manage within your available time. One solution is to hire more staff, but that will cost your business money and time to train new hires – and having more people may not necessarily simplify your procurement.
To avoid the challenges associated with in-house procurement, consider outsourcing your IT procurement solutions. Besides, outsourcing procurement doesn't mean you're losing control of your IT procurement process. Overall, here are the key benefits of IT procurement services in Calgary:
You Choose Your Level of Control
You can outsource all your IT procurement and let Pure IT handle the purchases for you, or you can choose only to outsource your non-core IT spend and keep your more sensitive procurement in-house. Regardless of the option you pick, we use innovative procurement software to let you retain more direct control over your everyday purchasing.
You Gain Procurement Expertise
Every business is made up of experts on various products they create or services they provide. But you can't be an expert in every field, particularly if you want to keep your expenses low. Maintaining a department devoted exclusively to IT procurement just isn't practical for many businesses, and that's why you need IT procurement services in Calgary.
Pure IT specializes in business process outsourcing and has the experience needed to offer you the best possible IT procurement solutions. We also have the skills and resources to strategize efficiently to deliver the latest IT solutions more affordably.
Reduced IT Costs
Doing procurement from within your company can be expensive. IT procurement services in Calgary enable you to cut your overhead costs and secure your bottom line. Additionally, outsourcing IT procurement to us means you won't need to devote office space or IT resources to running your own in-house procurement system. You will also cut back in terms of headcount and training.
Free Up Time to Focus on Core Business
Pure IT's IT procurement services in Calgary allow your procurement processes to be handled by purchasing experts. As a result, you and your team will focus on your own specialties without worrying about tracking down the right suppliers, generating purchase orders, or comparing costs. Every employee gets to focus on value-added areas of your business, where their unique skills are deployed to your best advantage. And since you'll also cut back on costs, you'll get to enjoy increased profits while delivering better service to your customers.
Adapt To Change More Rapidly
In today's competitive business world, being able to adapt to change quickly is very vital. But it's hard to adapt to the rapid changes in procurement processes if you rely on a manual, in-house system. IT procurement services in Calgary enable you to set up an agile procurement system with automated software solutions.
Outsourcing IT procurement to Pure IT will give you the benefits of agile procurement approaches without the extra in-house work. Typically, our agile procurement responds quickly to price changes and supply availability, which are some of the biggest advantages you should be looking for when adopting a new procurement solution.
When you outsource IT procurement to us, you're hiring an experienced team to keep track of these parameters for your business. Additionally, our IT procurement experts will be on top of catching any price reductions and ensuring you're not stuck without the necessary supplies if any of your suppliers runs out of stock.
Streamline Productivity
Last but not least, IT procurement services in Calgary help streamline your productivity. By letting Pure IT handle your procurement processes, your employees will better utilize their strengths on your core business, which streamlines their workflow and company operations.
In addition, our expertise and adaptability to modern procurement processes will help you increase productivity and efficiency. Generally, our procurement experts can move things more smoothly than your in-house department could since we have an edge in terms of access to vital information and expertise. In a nutshell, your business processes will simply run more smoothly when you and your employees don't have to worry about managing IT procurement.
Get Exceptional IT Procurement Services in Calgary!
Pure IT has more than 20 years of experience in providing cutting-edge IT services for small and medium-sized businesses in the Calgary area. Our experienced IT engineers know how to handle any situation your business throws our way. Our primary objective is to help your organization achieve its specific goals by customizing IT offerings to suit your unique business needs. Contact us today to learn more about our IT Procurement Services in Calgary and Southern Alberta!