Wingenback Ltd. Needed Capable & Responsive IT Support: They Turned To Pure IT
Wingenback LTD specializes in industrial and commercial moving and manufacturing of surrounds and kiosks for ATMs and related products. Since its start in 1975, Wingenback has diversified its services and grown their business, working with major banks and other clients across Canada.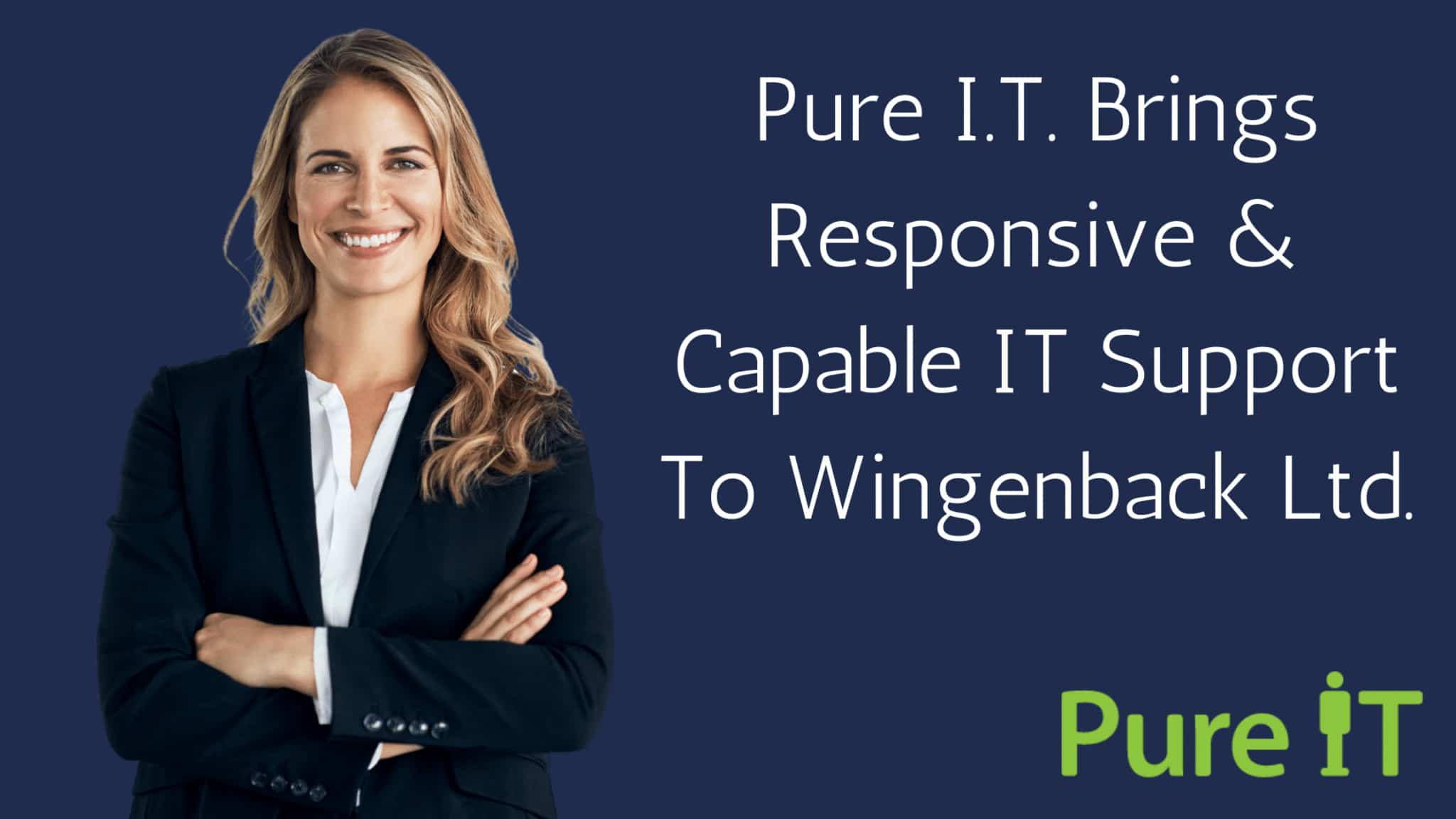 What Does Pure IT Do For Wingenback?
Responsive And Capable IT Support
Like any organization, Wingenback is immediately affected by problems with their IT. It's such a crucial part of their operations that even a small problem or occasional lag can have considerable consequences. That's why they need quick and effective support from their IT company. However, before working with Pure IT, Wingenback relied on a single IT support technician to care for their IT. 
"Wingenback has historically been your one-man IT shop," says Paul Partlo, COO, Wingenback. "We're not a small company. We're nationwide."
Despite their steady growth in size and expansion of services over the past four decades, it wasn't until 2019 that they looked into finding an IT support provider that could match their organization's scale. 
"There was about a 15-year relationship with the guy handling IT," says Paul. "This entire 40-50 million dollar company was resting, from an IT perspective, on the shoulders of one person with no backup.  
"The customer service level with Pure IT has been outstanding."
Paul Partlo, COO, Wingenback LTD.
Solution
After looking into their local business community options, Wingenback got in touch with Pure IT to learn more about their services and capabilities. They had first heard about them through a business contact. They were looking for an IT partner that could meet their needs as a nationally-operating business. 
"Pure IT was well known in the area, we contacted them, they came in for an analysis," says Paul. "We enjoyed all of our conversations with the Pure IT team and all the other people who dealt with them initially. We hired them and have been happy with them for years."
Pure IT provides responsive, effective, and personal support for Wingenback. Employees don't have to worry about waiting for hours for a response or having to explain their problem to an IT technician they've never talked to before. The Pure IT team maintains Wingenback's IT systems to prevent problems from affecting the way they work. When an issue occurs, they get speedy and understandable support from a familiar team of IT experts.
As a fully outsourced service, Pure IT offers superior availability and continuity when compared to Wingenback's previous IT technician. By outsourcing their IT to Pure IT, Wingenback enjoys access to a fully-available team of IT experts. 
"I can't think of a single situation in the past four or five months where somebody didn't get an answer back," says Paul. "The customer service level with Pure IT in a very tough environment has been outstanding."
Remote Work During The COVID-19 Pandemic
Challenge
IT resources have never been as important as they are now during the COVID-19 pandemic. To stay connected and productive while working remotely, they need the right technologies and processes in place for organizations to stay connected and productive.  
Unfortunately, due to how quickly the pandemic developed, many businesses could not prepare for the shift to a remote work setting. Doing so would have required careful planning, methodical execution of new processes, and expert implementation of new technologies. Fortunately, Wingenback had hired Pure IT just in time to handle their IT-based processes as the pandemic hit. 
"Our timing couldn't have been better," says Paul. "Wingenback has been able to move through this whole COVID situation quite well."
Solution
"The thing that we were able to do relatively seamlessly, right from day one, is to initiate the remote working arrangements throughout the country," says Paul. "It's been as close to perfect as you could do."
Pure IT was key in transitioning Wingenback to go remote, providing the resources and support needed to get every staff member working productively from home. The Pure IT team was careful to ensure that Wingenback's remote workers were properly secured and not posing any risks to their business data. 
"We went to a fully remote work setup, and we would have never been able to get through that transition successfully if we didn't have Pure IT," says Paul. "They did outstanding work, and pretty much whatever we asked for during that transition time, they were right on top of."
With Pure IT's team's help, Wingenback was able to transition seamlessly to a remote-work model – something that would not have been possible with their previous IT support provider. 
"We would have been severely struggling, had we stuck with that one-man IT shop," says Paul. "We couldn't have made a better-choice timing-wise than to have Pure IT step into that role in early 2020."