What Does Top-Tier Dell Support in Calgary Look Like?
Leading IT tech company Dell is trusted by business owners from all walks of life, as is evidenced by the fact that the company is the world's number three PC vendor. Nonetheless, even the best technology can have problems from time to time. IT breakdowns, software glitches or errors, breaches, and other issues not only cause untold frustration but also result in lost income as customers who aren't able to get stellar service from your firm find someone else to work with.
Thankfully, you don't have to put up with IT problems in your business.
Dell support in Calgary can not only help you address specific issues but also find remedies to prevent future problems. Read on to discover what to expect from a good Dell support team in your local area.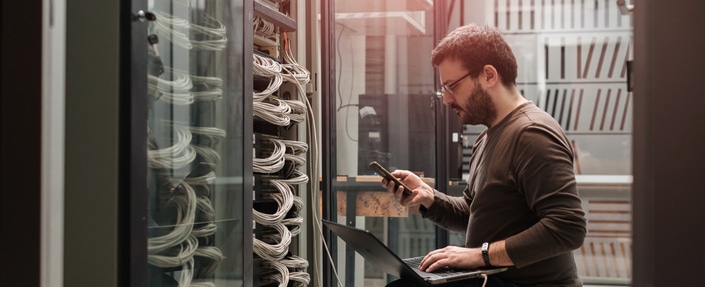 Hardware and Software Consultations, Installation and Configuration
Does your office need new IT hardware in order to streamline office procedures and/or offer improved customer services? If so, Dell support in Calgary can offer personalized IT solutions that will help you assess Dell's many technology options to find the hardware that best suits your needs. What's more, a good IT support company will help you install the hardware, configure it to ensure it works well with your existing IT set-up, and even train your employees so they know how to use your new IT equipment securely and efficiently. IT managed services can even create new software or tweak off-the-shelf software to meet your business needs and help you stay in step with local, state, and federal industry requirements.
Custom Cloud and SaaS Solutions
Businesses have found that is 40% more cost-effective to use a third-party cloud platform than it is to maintain an in-house IT system. What's more, a whopping 94% of business owners who have migrated to the cloud report their online security has improved as a result of the move. This doesn't mean that maintaining top-quality IT infrastructure in-house is now obsolete; in fact, companies are expected to increase their spending on IT hardware in the next few years. However, it does mean that you may need expert help when determining which equipment to purchase. Dell support in Calgary can help you select equipment that will work well with your cloud set-up if your company has already transitioned to a cloud server. If you are still in the process of planning out a transition, an IT managed service can help you move your files and programs without interrupting regular business operations, ensure your new cloud storage site is fully secure, and then monitor your cloud platforms to keep them safe and running well at all times.
Immediate Support and Assistance
The cost of a single hour of downtime ranges from $140,000 to $540,000. Customers will lose trust in your business if you can't meet their needs in a timely manner, leading to a long-term loss of income. Employees will be unable to do their jobs until the IT problem is repaired but you will still need to pay your staff members while they wait for an IT tech to deal with the outage. Regular downtime will lower morale in the office as employees feel they can no longer work productively due to ongoing IT hardware and/or software problems.
Top-tier Dell support can prevent downtime by monitoring your systems to catch problems early on. Support staff can also keep your licenses renewed and programs updated to prevent software glitches and vulnerabilities that could lead to a data breach. If IT hardware or software problems do occur, a good IT support company will immediately provide remote and in-person assistance. Working with an IT partner that specializes in Dell support will also give you access to needed parts and replacement equipment so you can get your business operations back to normal without undue hassle.
Introducing Pure IT –
Dell Support Provider in Calgary
Pure IT has the tools and expertise needed to provide cutting-edge Dell support and assistance. What's more, the company's IT specialists continually stay abreast of industry developments to ensure you're getting efficient, effective IT solutions at all times.
Another advantage of partnering with Pure IT is that the company offers not only Dell support but also a host of other services to keep your IT systems running at optimal speed and performance at all times. These services include:
Cloud migration, storage, and computing services. We also have Microsoft 365 and SharePoint experts on hand to answer your questions and provide customized support, assistance, and training.
IT consulting and project support services. We can partner with your in-house IT technician or work with any point person in your company to improve one or more aspects of your IT set-up. Our team takes the time to get to know your business operations, goals and needs to offer solutions that are a perfect fit for your company.
Cybersecurity services. Minimize the odds of being hacked by working with our experts and taking advantage of the cutting-edge cybersecurity tools we offer to keep your in-house and cloud-based systems safe at all hours of the day and night.
Managed services and support. We offer fulltime support and service, keeping an eye on your network and proactively looking for ways to improve your regular business operations.
Contact today for top-tier Dell support
Are you looking for top-tier Dell support that offers all the IT services you need under one roof? Are you tired of a mediocre or problematic IT set-up and would like to improve operations but only have a limited budget to do so? If so, get in touch with us at your convenience to schedule an appointment with our team of IT experts. We offer customized, scalable services to provide you with the help you need, when you need it.