Disaster Recovery Services: Strategies And Planning For Your Local Small Businesses In Calgary and Southern Alberta
Having a plan in place for when disaster strikes is essential for any business. Unfortunately, many businesses in Calgary learned this lesson the hard way in 2013 when the city was hit by catastrophic flooding. While the city was able to recover eventually, many businesses never fully recovered. Why? Because they had no plan in place for how to deal with a disaster. They thought "disasters don't happen in Calgary", but of course they do. Having a disaster plan is essential for any business, no matter where it is located. It can help you to protect your employees, your customers, and your property, and it can make all the difference in whether or not your business is able to bounce back after a disaster strikes.
A personal problem they helped resolve, which shows their dedication, after the Calgary flood of 2013, two senior personnel from PureIT attended our office which was closed due to flooding, walked up dark stairways with flashlights and removed our server. It was taken to their office, set up and fully operational, and accessible within 24 hours from their office. This allowed our personnel to work from home as we were out of our office for 5 weeks. Our company was only down for one day and had no loss of data. You can't get better support than that.
Alan Whitnack
Start A Conversation
4 Key Reasons All Calgary Businesses Need A Robust Disaster Recovery Strategy In Place
Protect your business from disasters- both natural and man-made
Quickly and easily get back up and running in the event of a disaster
Reduce the risk of data loss or hardware failure
Maintain business continuity during and after a disaster
Why Have Pure IT Take Care Of Your Disaster Recovery Strategies?
You'll be able to recover from a disaster quickly and seamlessly.
Your data will be safe in case of an emergency.
You'll sleep soundly knowing your business is protected.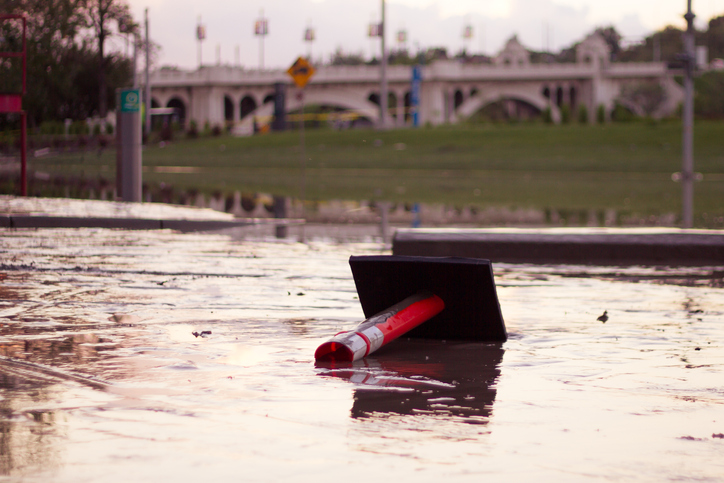 Why You Need A Professional Disaster Recovery Plan For Your Company in Calgary or Southern Alberta?
As IT systems have become increasingly critical to the smooth operation of a company, and arguably the economy as a whole, the importance of ensuring the continued operation of those systems, and their rapid recovery, has increased. disaster recovery planning (DRP) is a process designed to protect an organization from the effects of catastrophic events. The goal of DRP is to ensure that the organization can resume normal operations as quickly as possible after an incident. For example, of companies that had a significant loss of business data, 43% never reopen, and 29% close within two years. As a result, preparation for the continuation or recovery of systems earnest attention seriously. A significant investment of time and money to ensure minimal losses in the event of a disruptive event.
Disasters Can And Will Happen At AnyTime
RIght 2013 and 2020?
Disasters can happen anytime, without warning. That's why disaster recovery planning is so important for businesses. When disaster strikes, having a plan in place can help to minimize the damage and get your business up and running again as quickly as possible. Disaster recovery planning involves identifying potential risks and creating a strategy for how to deal with them. This can include everything from backing up data to establishing alternative communication channels. By taking the time to plan ahead, you can help to ensure that your business is able to weather any disaster.
Business continuity is the ability of an organization to keep functioning during and after a major disruptive event. Disruptive events can include natural disasters, pandemics, cyberattacks, and more. Major disruptive events can have a significant impact on businesses, causing them to temporarily shut down or permanently close. In the wake of a major disruptive event, businesses must rapidly assess the damage and take steps to ensure that they can resume operations as quickly as possible. This typically involves establishing a business continuity plan, which outlines how the business will continue to function during and after a major disruptive event. The business continuity plan should be regularly updated and tested to ensure that it is still effective. The 100-year flood of 2013 and the COVID-19 pandemic in 2020 were very recent examples of events causing Calgary businesses to put their business continuity and disaster recovery strategies into effect.
Save Money, Avoid Losses With A Disaster Recovery Plan From Pure IT
When any kind of disaster strikes, the costs can very quickly get out of control. Whether rebuilding your business or the internal network infrastructure, if the contingency plan is not in place, it is going to hit the bank account hard. The primary reason most businesses that suffer significant data loss, or other IT-related problems have such a difficult if time making a full recovery is because they do not have an effective disaster recovery plan in place. By having a disaster recovery plan, you can minimize the downtime and get your business up and running as quickly as possible. Additionally, you will be able to protect your data and ensure that you can continue to serve your customers effectively. While the upfront costs of implementing a disaster recovery plan may seem high, it is nothing like the costs associated with outages, downtime, and loss of revenue, because you can't meet your customer needs.
Continue To Serve Your Customers And Never Miss A Beat
No business is safe from disaster, whether it is a natural disaster like a forest fire, global pandemic or 100-year flood, or a man-made one like a power spike or data breach. That's why it's so important to have a disaster recovery plan in place. The loss of critical data can cause people or clients to lose confidence in your company and how you do business. Pure IT will help you prepare a plan for disaster early, so you can protect essential things and mitigate losses. Having a sound disaster recovery plan is one of the best ways to ensure your business's long-term success.
Avoid Confusion And Chaos
There's no question that a major disaster can bring a company to its knees. The damage, chaos, and confusion that ensues can be overwhelming, and it can take a long time to get back on track. But if you have a solid plan in place, you can avoid some of the worst effects of a disaster. A well-documented, formalized plan will give you a roadmap to follow in the midst of chaos. It will help you avoid confusion and make sure everyone is on the same page. And if you've reviewed and practiced your plan, you'll be better prepared to execute it when disaster strikes. At Pure IT, we take a proactive approach to disaster planning. We work with our clients to create the right business continuity and disaster recovery strategy that avoids confusion and chaos and keeps operations humming along.
Can Pure IT Help Calgary & Southern Alberta Companies Avoid A Disaster?
Avoiding disasters is crucial for any business. That's why our team at Pure IT provides Calgary businesses with disaster recovery solutions. Our services help your business implement proven best practices for a swift recovery in the event of a data loss or business interruption. By working with us, you can avoid the costly downtime and lost productivity that can result from a disaster. We offer a comprehensive suite of disaster recovery services, including business continuity planning, data backup and recovery, and more. So don't wait until it's too late.
Data Backup & Data Recovery Are Essential Services
But Not The Only Thing That Matters
Pure IT understands how important data backup and data recovery are for businesses of all sizes. That's why we offer a unique system that backs up all of your domain and server information and stores it in a cloud or backup server offsite. This way, you'll always be able to reaccess your data quickly and efficiently. In addition, our system is designed to meet the specific needs of each business, so you can be sure that your data is always safe and secure.
Don't Forget About Remote Access
Remote access solutions are more important than ever for businesses in Calgary. A freak winter snowstorm can force businesses to shut down, just for one day. But that one day shutdown can be a major disruption to business operations. The COVID pandemic convinced many businesses in Calgary about the importance of remote access and the ability to work from any location at any time. Remote access solutions allow businesses to maintain continuity of operations during weather-related disruptions or other unexpected events. Remote access solutions provide employees with the ability to work from any location, at any time, using any device. This flexibility is essential for businesses that need to maintain productivity during disruptions. Remote access solutions are becoming increasingly commonplace in Calgary and are an essential tool for businesses of all sizes.
Hackers And Cybercriminals Have Their Dirty Hands In Calgary Businesses
As we stated before, not all disaster recovery situations are weather related. A ransomware attack, data breach, or a cyber attack can force Calgary businesses into a disaster recovery scenario, forcing the execution of their business continuity strategy. Cyber threats must be on the top of Calgary businesses' IT concerns list. The threat is real. You are more likely to get hit with a ransomware attack than have to deal with a snowstorm or 100 year flood. Cyber attacks can come from anywhere in the world and can target any size business. Even if you have the best security system in place, you are not immune from attack. That's why it's so important to have a solid business continuity plan in place so you can recover from a cyber attack or ransomware quickly.
Power Failure Is A Big Concern
A power failure is one of the most common disasters that can strike a business. They can cause damage to equipment, data loss, and decreased productivity. power outages can also be disastrous for businesses if they are not prepared. power failures can strike at any time, and they can last for a day, two or maybe longer. it is important to have a plan in place in case of a power outage. power outages can be caused by severe weather, downed power lines, or even a power surge. Having a plan in place will help you minimize the damage and keep your business running smoothly.
IT Equipment Failure
IT equipment failure is a key reason why Calgary businesses proclaim a disaster. The sudden loss of servers, connectivity or even a cloud provider suddenly going dark can be a huge concern for businesses in the City of Calgary. Have you stopped to consider the impact on your business if you couldn't access your data, custom records or information on that producing well? IT equipment failure planning needs to be part of your business continuity and disaster recovery strategy. There are a few steps you can take to plan for IT equipment failure. First, identify what IT equipment is critical to your business operations. Second, create a backup and recovery plan for each piece of critical IT equipment. Third, test your backup and recovery plan regularly. By taking these steps, you can minimize the impact of any IT equipment failures or loss of service from any cloud provider.
KBM has worked with Pure IT for a number of years now - we could not be happier with the services they provide. The level of customer service is unmatched by other companies in the same industry.
KBM Commercial Floor Coverings Inc.
Start A Conversation
Pure IT's Proven Business Continuity And Disaster Recovery Strategy
Pure IT knows that protecting your IT assets is essential to keeping your business up and running. That's why we offer complete disaster recovery services, including:
Centralized recovery and management
Failover testing and migration without disruption
Simple and cost-efficient data replication
Reduced downtime, and rapid, reliable recovery
In addition, our expert disaster recovery consultants can help you plan and implement a customized disaster recovery solution that meets the unique needs of your business.
As any business owner knows, disaster can strike at any time. Whether it's a fire, flood, or power outage, disasters can have devastating consequences for businesses that are unprepared. According to a recent study, 90% of businesses that do not have a disaster recovery plan are more likely to fail after a disaster. Without a plan in place, businesses face the daunting task of having to rebuild from scratch. Not only is this costly and time-consuming, but it can also be difficult to recover lost data and customers. By having a disaster recovery plan in place, businesses can minimize the impact of a disaster and increase their chances of bouncing back. While no one wants to think about the possibility of a disaster, it's important to be prepared.
Now Is The Time To Call Pure IT And Start A Discussion With Our Disaster Recovery Experts
Every business owner knows that there are countless things that can go wrong at any given moment. From natural disasters to power outages, there are a number of potential disruptions that could bring operations to a standstill. That's why it's so important to have a plan in place for when the unthinkable happens. By having a reliable team of professionals who can quickly and efficiently handle all of the necessary details, you can rest assured that your business will be back up and running in no time. In the face of an unexpected setback, you need to know that you have a team you can count on to get the job done right. That's the peace of mind that comes with knowing you're prepared for whatever life throws at you.
With Pure IT on your side, you can rest assured that your business operations are in good hands.
100% Client Satisfaction With Pure IT
Pure IT is committed to providing our clients with the best possible service. We work hard to ensure that all of your needs are met and that you are 100% satisfied with our work. We understand that your satisfaction is essential to our success, and we will do everything we can to exceed your expectations. We appreciate your business, and we will work hard to ensure that you are completely satisfied with our services. Thank you for choosing Pure IT.