Pure IT Works With Calgary Businesses To Assist Them With IT Hardware & Computer Software Procurement
When you're planning on procuring new software or hardware, you're looking at spending a significant amount of money. As such, you'll want to ensure that the technology you are investing in is right for your business and within your budget constraints.
That said, the process of procuring new software and hardware can be complex, tedious, time-consuming, and costly. This post will walk you through how Pure IT's tech specialists can relieve you from that burden. We will assess your current IT  infrastructure, then tailor software and hardware procurement strategies to help you acquire the best IT infrastructure for your business.
But first, a brief overview of what hardware and software procurement is.
What Is IT Hardware Procurement?
In terms of hardware, your IT procurement effort may focus on replacing outdated or aging laptops and/or workstations, printers, routers, mobile devices, and on-premise servers.
What Is ComputerSoftware Procurement?
Software procurement may include renewing licences for productivity applications such as Adobe Creative Suite, Microsoft Office, etc. Instead of SaaS (Software as a Service) solutions, you may also look to build custom applications.
The hardware and software procurement process must fulfill your operational requirements. They must also follow compliance standards, meet cybersecurity needs, and drive strategic business goals. In essence, without a sound IT procurement strategy, you'll fail to achieve all your organization's or business requirements. It would result in wastage of resources, either directly (purchase of inappropriate or unwanted systems) or indirectly (insufficient or underused capacity).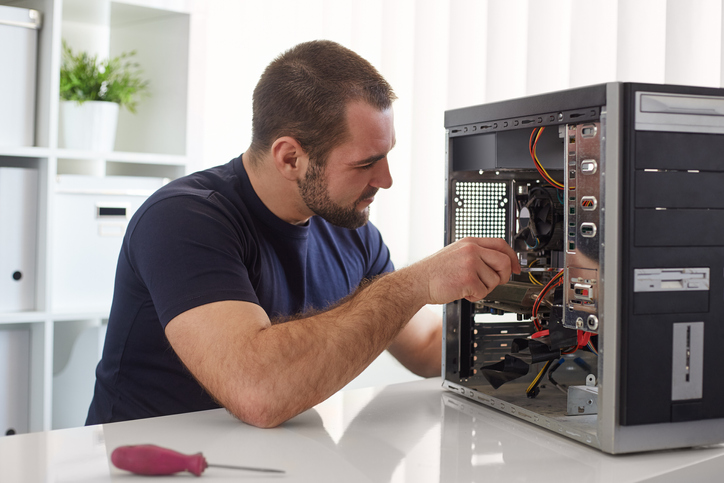 Pure IT Can Help With Hardware and Software Procurement
If you don't exactly know which IT equipment you need or where to start, Pure IT can help. Here's how:
1. Finding Tailored Solutions 
When acquiring technology, it is important that you ensure that it aligns with your organizational needs. All too often, businesses make technology purchases hoping that the cost value will be worth the trouble of having to adapt to the equipment. However, the reverse is true; technology should be procured strategically so that it fits in with and supports your business goals. When you engineer workarounds and modify your IT environment or larger workflows, you can end up having inefficiencies and integration problems.
When you partner with Pure IT, we will help you find the solutions that are right for your business. Our team will start by assessing your business needs and then identify the right type of hardware and software that can help you meet those needs and achieve your business goals.
2. Acquisition of IT Equipment With an Eye Toward the Future 
Many organizations tend to minimize their capital acquisition costs and therefore make procurement decisions based on short-term needs and upfront price. This can be counterintuitive, given that such organizations will have to replace this equipment over a short span to remain competitive.
Pure IT can help you acquire futuristic IT equipment that gives you the best value for your investment. Instead of you getting quotes from vendors, our IT procurement IT specialists will determine how much it will cost to operate a given technology and when it will eventually be disposed of. By doing this, they'll help ensure that you choose the most cost-effective option that will pay dividends over its lifespan.
3. Save Time and Cost 
Every business needs to have a clearly defined IT procurement plan. This is to ensure that the procurement process is done correctly and within the shortest time possible. A procurement plan can also help prevent maverick spending that may take place outside your process.
When you partner with Pure IT, we can help you develop a sound procurement plan that will streamline the whole process. It will not only ensure that the process moves swiftly, but that you don't spend outside your budget constraints.
Additionally, we'll take time to research the latest IT hardware and software to determine which technologies are best suited for your business. By handling your procurement process, we relieve you of that task. Therefore, you'll have more time to do what you do best, which is to build your business.
4. Configuration Assistance 
Computer hardware and software are two different components that make up a computer system. Software needs a hardware device to run, and hardware without software is just an expensive piece of metal. Whereas one needs the other in order to function, software and hardware configurations have different abilities and functions. For instance, whereas software mainly deals with hundreds of lines of code to implement a given process, hardware deals with tangible parts that have different functions.
That said, software and hardware configuration can be challenging, especially when dealing with new equipment. Fortunately, Pure IT can assist you with the configuration of your IT infrastructure. Our IT infrastructure configuration experts will assist you at every stage through the provision and configuration of all your new IT equipment to ensure that your IT system is running seamlessly.
5. Device and Hardware Licensing 
Device licensing is a way in which vendors issue and manage the licences they provide for their customers to access the software and hardware devices they are using. Effective device licensing can boost your business by eliminating the friction that is involved in issuing new licences to customers. It makes things easier for customers after procuring IT equipment.
Our team is constantly exploring and testing the latest computer hardware and devices. Our hardware and device licensing service means you'll never have to worry about keeping your licences up-to-date. We will ensure that your licensing regime will always be in sync with your requirements. We will take care of procuring the relevant software and hardware on your behalf and then maintain an inventory of all the licensing requirements. With Pure IT, your business will have a precise number of device and hardware licenses such that you don't pay for those licenses that you don't need.
6. Risk Minimization 
All asset acquisitions often come with an element of risk, and IT infrastructure is no different. From potential compliance or financial issues to technology that fails to support the company's needs down the road, hardware and software procurement can be tricky. Pure IT's procurement specialists work with security and risk mitigation in mind. Some of these practices include:
Determining if there's a probability of financial losses
Performing a full risk analysis
Creating a road map, planning for future projects, and implementing measures to minimize the impact of risks.
What Makes Pure IT the Go-to IT Provider When Procuring IT Hardware and Computer Software
1. We Have Recommended Technology for a Wide Range of Businesses 
Pure IT has worked with different clients, some of whom have similar IT needs as yours. So we have recommended technology that has worked in similar situations. Since we serve multiple clients, we are aware of the common problem across the board and within various categories of clients. As such, we can recommend the best technology that can meet your needs and help you achieve your overall goals.
2. We Know Your IT Environment 
Your IT environment requires constant monitoring and maintenance each week, and Pure IT's tech experts spend that time with your technology or one similar to it. Throughout this process, our tech experts learn about the functions and configuration of different IT equipment.
So, when the time to procure new equipment comes, we will have an excellent idea of what technology will and won't work with your existing infrastructure. And since we have a vast pool of IT personnel, someone will know what new solution is both reliable and compatible with your existing environment. This means that even if you have older technology or unique needs, you can depend on us to recommend the appropriate solution.
3. You Know You'll Get the Right Product 
One of the most common problems that businesses face when procuring hardware or software on their own is that they end up buying the wrong solution. Unfortunately, if you don't pay keen attention, you may end up buying consumer-grade equipment instead of business-grade equipment.
When you partner with Pure IT, we will ensure that you purchase the more reliable and durable business-grade IT equipment. By helping you avoid purchasing the less reliable consumer-grade equipment, it means that you won't have to pay runaway expenses because the equipment doesn't work.
Can't I Find IT Products Myself?
Of course, you can! But that doesn't mean that you'll find the right hardware and software that meets your business's needs. Pure IT has years of experience working with premier IT equipment providers, so we know exactly how to find what you are looking for. Among the tier-one vendors we work with include:
Find the Right Solution for Your Business
Pure IT specializes in matching unique business needs with hardware and software solutions that optimize productivity at a cost-friendly rate. Our team of IT experts has experience working with top-notch tech providers and can help provide you with an IT infrastructure that delivers exactly what you are looking for. Contact us today and let us help you find the right IT infrastructure for your business.