Hackers Are Invading Zoom Meetings and How Pure IT Improves Security
If you've been participating in online meetings lately, you may have heard warnings about cybercriminals crashing them. You may be wondering whether this is just another rumor circulating on social media, or something you should take seriously. Unfortunately, it's the latter. Hackers are using the novel coronavirus to take advantage of unsuspecting remote workers. Bad characters' exploits include showing up uninvited to Zoom meetings so they can unleash their digital arsenal. Here's a look at why cyber perpetrators are ramping up their attacks, and how an IT partner can make your Zoom meetings, as well as your other business operations, more secure.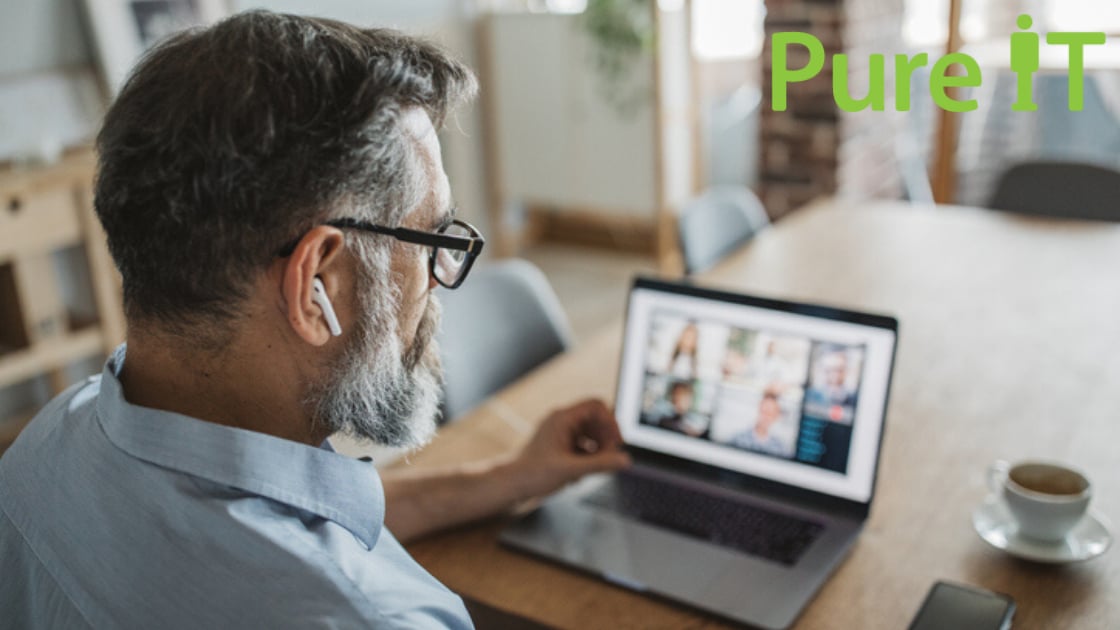 Why Hackers Invade Zoom Meetings & Why Calgary Businesses Need Zoom Meeting Security
The COVID-19 pandemic has hackers on the lookout for companies' network vulnerabilities so they can steal sensitive data. With so many employees working from home, access to this information is often easier than ever to come by, especially when workers use Internet connections that aren't secure or lack adequate protection on the devices they utilize to complete work tasks. Online meetings among remote workers are frequently an open door to company data, and hackers know it. Some steps you can take to safeguard your video conferences include:
Avoiding the use of waiting rooms for attendees. (These provide yet another access channel).
Requiring a password to join meetings. (Contrary to popular belief, this won't necessarily discourage attendance, and Zoom automatically creates the password for you).
Using a different meeting ID for each session. (This makes the system less predictable, reducing the likelihood of unwanted guests).
How Pure IT Improves Zoom Meeting Security
Having a top-notch IT service provider on your team maximizes overall security so you can focus on core operations. Consider some of the many advantages of partnering with third-party tech experts.
Round-the Clock monitoring and security
IT services include round-the-clock monitoring of your network to detect threats before they sabotage your system. Your service provider will also ensure that you have the latest anti-virus software and firewalls installed and that they're updated as soon as a newer version is released. A managed IT company will consistently maintain your network to ensure compliance with applicable regulations and safety protocols, too.
Executive-level Consulting
As you transition to working remotely and make other changes to your business down the road, you may not be sure which software and other products will best help you meet your goals. A reliable IT company provides strategic consulting to help you set up secure meetings and enhance your video conferencing capabilities. Consultants can recommend other system upgrades and improvements, too.
Remote Support
Even tech-savvy employees may occasionally run into virtual roadblocks. When you have knowledgeable tech professionals on your team, they can provide remote support to resolve issues quickly, with minimal disruptions and frustration. For instance, if your workers encounter problems while setting up or conducting Zoom meetings, they can receive remote assistance whenever they need it, so they're not left to solve problems on their own or give up on meeting altogether.
Calgary Technology Solutions Including Zoom Meeting Security
Even if you're already managing some of your IT services in-house, it's always helpful to have additional support, especially if adjusting to remote work during the COVID-19 crisis requires a technology overhaul for your company. Third-party technicians can work with your staff to ensure secure video conferencing and network access, without interrupting operations.
When you have a distributed workforce, connecting virtually is essential. The threat of cyberattacks doesn't have to stop you from video conferencing. A high-quality Calgary managed IT services provider makes it possible to enjoy secure Zoom meetings — and more efficient operations overall — enhancing collaboration, productivity, and morale during this chaotic time.