Comprehensive Managed IT Infrastructure Services
Today, every business is a tech business. Customers locate and research businesses and make appointments or place orders through websites. Businesses manage operations and finances via IT programs and apps. Sound IT infrastructure that's well-managed over the long term is the foundation of business success.
But managing IT infrastructure takes time away from essential business services. To be effective, it requires a full staff of skilled and experienced IT professionals. Managed IT Infrastructure Services can support the success of your business by assisting in planning an agile infrastructure system that supports your goals and needs.
Hiring a Managed IT Infrastructure Service frees you from the responsibility of regular system maintenance. Pure IT can evaluate your infrastructure, recommend improvements to address weaknesses, and provide ongoing, customized, IT system support.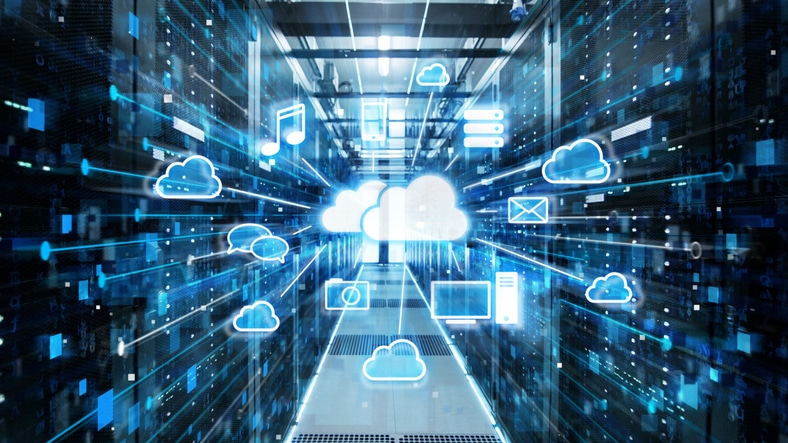 Modernize Your IT Environment and Optimize Operations With Managed IT Infrastructure Services
Whether your infrastructure is on-premise or cloud-based, a Managed IT Infrastructure Service can help you bring modern, automated, and streamlined functions to every IT application. Modernization of IT infrastructure is essential to the goal of remaining competitive. Companies like ours use our expertise to help you plan a modernized IT infrastructure that fits your business.
We help keep all your IT system components functioning efficiently. We use our expertise to resolve any infrastructure problems as quickly as possible. This is an invaluable service – since even a brief downtime can significantly drain profits. Having an IT team always on call to address issues is imperative.
Whatever equipment and applications your infrastructure system utilizes, Pure IT can offer design, monitoring, and maintenance support with a complete Managed IT Infrastructure Service. We take that title seriously, knowing what it means to a business.
Our support covers most IT infrastructure equipment and applications, including:
On-Premise Infrastructure
Companies we serve who use on-premise infrastructure receive 24/7 support, monitoring, and maintenance. Regular IT health checks are conducted to ensure continuing efficient operation. Desktop patch management and security are included. Server issues are monitored for operational and security issues. New device deployment is supported with automation.
Microsoft Azure Managed Services
We offer 24/7 support, monitoring, and maintenance for Microsoft's Azure cloud service. Cloud server and virtual machine management are services that companies like Pure IT offer Managed IT Infrastructure Services.
Server and application patching is available for these systems. Data management and storage functions are also supported. Backup and disaster recovery security support are offered. Also available are Azure Iaas, PaaS, and Saas applications support.
Perhaps you have concerns about transitioning to cloud services. Pure IT is highly experienced in cloud migration. You can count on us to ensure security as you switch to cloud service and its benefits. Pure IT is a Microsoft-certified Silver Partner. Our staff includes Microsoft Azure-certified associates.
Hybrid and Multi-Cloud Managed Services
Our staff has the experience of utilizing a wide range of options in combination. We can optimize your technology stack with managed services covering combined systems.
Network Infrastructure
The network configuration infrastructure, including routers, switches, and access points, is monitored and managed efficiently. Network security is managed 24/7. Patching and maintaining components such as switches, routers, and access points are included.
Compliance, License, and Warranty Management
Failing to establish an accurate system for network monitoring presents a risky situation. You need to be perennially aware of the detailed status of your infrastructure equipment:
Are your systems up to date?
Are any systems in danger of failing?
How many, and what devices and software are your systems using?
When do warranties expire?
When do domain names, licenses, or registrations related to software and other IT applications end?
Managed services can ensure all of these concerns are monitored, addressed, and up-to-date.
Managed IT Infrastructure Services Address Related Business Needs
The assistance offered by Managed IT Infrastructure Services covers a variety of IT-related needs. Hardware, software, and multiple network devices are monitored and maintained with updates and recommended upgrades.
Other services our Managed IT Infrastructure Services cover include:
Help desk support.
Systems, vendors, and software management.
Network security, including data protection and disaster recovery.
Consultation, research, and advisory services.
Strategies to maximize productivity and streamline business operations.
IT Infrastructure Service Management Covers All Phases Of Development
From planning to development to implementation to monitoring and maintenance, a Managed IT Infrastructure Service can help you optimize your strategy and implement the best infrastructure components for your business plans and goals.
Following the planning stage, further development is supported as a whole new infrastructure is implemented or a current one optimized, adding some updated components. Both current and newly created systems benefit from 24/7 security monitoring and emergency IT helpdesk support any time of the day or night you need it.
The Advantage of Hiring a Single Managed IT Service Provider for Complete IT System Coverage
Sometimes, having multiple partners is a plus. But when it comes to Managed IT Infrastructure Services, streamlining operations, ensuring data is secure, monitoring and responding to infrastructure integrity issues, updating and upgrading infrastructure components, and retaining a single service provider is the best option.
Continuity and compatibility are easier when the same team oversees an entire infrastructure system. It becomes much less likely that a key issue will be overlooked when a single IT service provider knows they are responsible for every aspect of your IT system.
Supportive Co-managed Services – You are Still in Charge
Some business owners hesitate to sign up with a Managed IT Infrastructure Service company. Do they worry that they will relinquish their business's control by hiring a Managed IT Infrastructure Service?
That's simply not the case. We manage your IT infrastructure, not your business. Our team follows your lead when optimizing your existing system or helping you upgrade to new technologies.
We will fill you in on the advantages of varied options. But you know your business, and we know ours. We become familiar with your objectives, so we can use our knowledge of IT options to help your business increase profits. We help you determine the most cost-effective IT infrastructure choices over the long term.
Our Managed IT Infrastructure Services Support a Variety of Industries
Pure IT serves the infrastructure needs of various businesses in Alberta and Western Canada. Specialty fields include construction, oil & gas, and private equity firms. But our services aren't limited, as our team is highly adaptable.
See how our Managed IT Infrastructure Services can help, no matter your field of business. Contact us for your free, and immediate Managed IT Infrastructure Services quote.