Local Calgary Organization Calls On Pure IT To Assist With Network Setup
Moving offices is a large, chaotic experience for most teams. The process is a lot like moving between houses. Everything must be broken down, packed up into boxes, and then transported and set back up in the new location. In some cases, equipment may be sold at one end and new gear bought on location. The one thing that's certain, however, is that a new business location means an all-new network infrastructure and setup.
In a world where more and more essential business features are digital, virtual, and wireless, the business network is one of the few elements that is still set up using hardware and wires. Even a team powered by on-site wifi needs a few hidden wires from the ISP modem to the wifi router broadcasting the wireless internet signal.
While on-site servers are becoming rarer, on-site workstations still rely on the office network; as do mobile devices on the wifi. So when you move to a new office, you need a fast, efficient network setup before the first workstation is online and connecting with clients. That is exactly what a local Calgary business needed when they called in late February for installation by early March.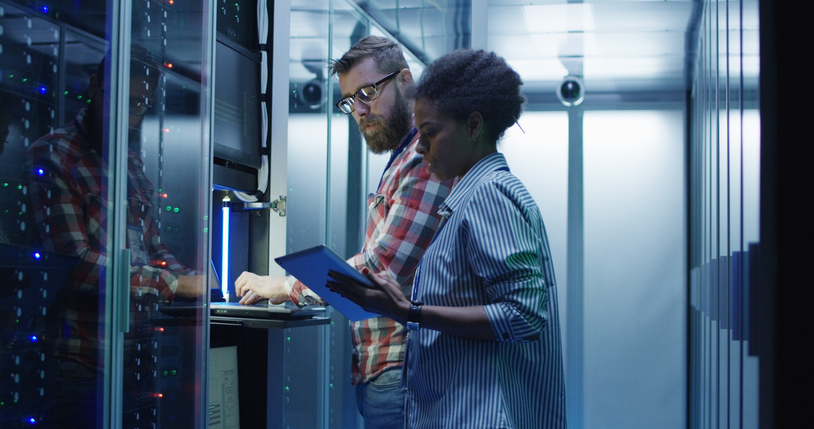 Calgary Business Seeks New Location Network Setup with Pure IT
Recently, Pure IT was contacted by a local Calgary organization about to change locations and is in need of a last-minute quote on a rushed network setup. This can happen when plans get crunched or the location change happens in a rush. Natural disasters damaging your building, a sudden business restructure, or a new job site for your team can all impact where your office is located at any time.
Our Calgary client requested a quick consultation on how fast our Pure IT team could set up their new office network from the ground up, including the procurement of modems, routers, switches, and other hardware infrastructure. Naturally, we stepped up to the plate to provide a quick response and soon consulted to build a custom quote for our client in a rush.
What It Takes for Network Setup in a New Office Location
The most important thing we took note of with Pure IT's new Calgary client was their need for hardware procurement. This indicates that the team is either starting with all-new hardware (not migrated from the last office) or the new location is larger and requires more hardware than they originally sourced.
Pure IT was ready to help. With access to the best routers, switches, and docking station hubs in the business, we can easily arrange to set up a client's new location with all-new network hardware and infrastructure. In fact, it's beneficial when your IT team can choose top-of-the-line materials within your performance needs and budget range – hardware designed to work together and meet the latest in security and performance standards.
So let's dive into the hardware and setup required to install a new business network into a new office location.
1) ISP Selection and Modem Installation
Your network all starts at the modem; the signal box provided by your ISP – internet service provider. This is where the cable or fiber-optics signal gets into your building and enters the office. The cable line comes in from the wall, the modem connects to the cable, and your central router then connects to the modem.
2) Secure Business-Grade WAN/LAN Router
The next piece is a secure WAN/LAN (wifi and hardline) router. This takes the signal from the modem and translates it into an internal network that you can manage, secure, and build an internal data structure within. Routers contain an internal computer that provides smart data handling and security. We will make sure you are using a top-of-line router with security and performance rated for business use – as opposed to a simpler residential router with less horsepower, programmability, or security built-in.
Most routers can support more than one network and broadcast that network via hardline CAT6 cables and through Wifi.
3) One or More Network Switch Hubs
The next step is the switch. A switch takes a signal from a router and distributes it to many endpoints, like computers and servers. The switch itself has a small computer inside which handles smart data routing between the router and all the endpoints. A good switch drastically reduces the network load of supporting multiple to numerous endpoints on your hardline network.
The more endpoint computers you have, the more switches and hubs you will need to distribute strong, hardline signal.
4) A Few Hundred Feet of CAT6 Cable
Of course, your modem, router, and switches won't be useful without a few hundred feet of CAT6 network cable and a few dozen ends to clip into those ports. Once all workstations and switches are in place, our Pure IT technicians can custom-cut cable lengths of exactly the right size to reach each endpoint through hidden or obscured cable channels.
5) Optional: USB-C Networked Docking Stations
Once, laptops brought into the workplace could have snagged a desk-mounted CAT6 connection, but modern laptops are too slender for a CAT6 port. For a complete setup, your office may also benefit from USBC docking stations or hubs that include a CAT6 port along with a few extra USB A, USB C, and memory card ports. This will enable the latest portable devices to connect to a solid and secured internet hardline in the office, freeing up wifi bandwidth and reducing data latency.
Configuring a New Office Network
Once the hardware is installed, Pure IT technicians will get to work configuring the new network to provide both performance and security.
Setting Up the Networks
Internal Business Network – 5 GHz
External Guest Network – 5 GHz
External IoT Network – 2.4 GHz
Modern businesses need one to three networks set up, often from the same business-grade router. The first network is your internal business network – where coworkers collaborate, share files, and access business platforms to do their work. Your internal network needs to be the most secure, protecting your team and the data you handle from unwanted intrusions in an increasingly risky cyber ecosystem.
We will put the full force of our expertise into securing your primary business network.
The second standard network for businesses is an external guest network. This makes it possible for guests, visiting clients, and other non-employee visitors to access the internet through a complimentary wifi network – without gaining access to your secured internal business network. We will secure your guest wifi from intrusions on guest browsing – and from guest access to your internal network.
The third is an IoT network. This one needs to be at the shorter 2.4GHz wavelength and is only for smart home and IoT devices. A separate network is necessary because IoT devices are notoriously not secure and subject to hacks like botnet inclusion. A separate network improves IoT performance and protects your official networks from the increased security risk.
Assigning IP Addresses
Next, we will custom configure your network to work perfectly with your endpoints. A big part of this is building an IP address system and assigning some or all endpoint IP addresses to they are the same connection each time a computer reboots or reconnects to the network. Depending on the needs of your network, this stage can go in-depth into specific settings needed for specific endpoints. Once IP addresses are assigned, individual protocols can be set for each endpoint at those IP addresses.
Setting Up Internal File Sharing
Next is internal file sharing. Businesses do this differently depending on their chosen workflow and software stack. However, with the right setup, any Windows or Linux (and even networks of Windows and Linux) can share files hosted on the local file systems of each endpoint computer. This direct file-sharing must be set up, but it can also be extremely useful and does not require actual internet access to reference files between internal devices.
Configuring the Firewall
Finally, network security must be established. First, your router has security measures already installed in the firmware, ready to be configured to your business's specific data routing needs. The router – and the switch – can provide security on a hardware level, closing ports and blocking certain types of suspicious data with preliminary configuration. Pure IT technicians can easily configure the router's internal firewall to provide the best possible level of managed security, then stack additional security provided through your endpoints and servers.
Moving Offices in Calgary? Pure IT can help with every step of your network setup, from choosing and installing the right hardware to fine-tuning your security configurations for optimum performance and data protection. Your new office setup can be fast, secure, and with great internet signal in just a few hours of work. Pure IT is here to help with all your on-site and remote IT needs, whether it's a one-time setup of your new office location or ongoing Managed IT services to provide an entire IT department at your command.
If you're ready to consult on your Calgary office's network installation or support, contact us today. We're ready to help.