Wi-Fi-As-A-Service
Many these days consider WiFi a utility. Consequently, to ensure internal WiFi is always accessible to their clients and staff, companies are now turning to WiFi-as-a-Service (WaaS).
Our reliance on the internet in our personal and business lives cannot be overstated. Both the modern employee and client alike expect your business place to have fast, secure, wireless connectivity throughout.
Without overemphasizing the point, WiFi is now a utility. It's not any different from running water or electricity, meaning we depend on it to be efficient, productive, and happy.
What's more, with more business applications moving to the cloud, unreliable connectivity could bring your entire operation to its knees. Sadly, we all know how frustrating it can get whenever your wireless network goes down-disgruntled end users are just the tip of the iceberg.
As a leading IT services Company, Pure IT has provided premium WiFi Networking Support in Calgary for quite some time now. Over the years, we've seen many companies, both large and small, struggle with deploying and maintaining wireless networks. After discussing their challenges with their representatives, we managed to pinpoint the root cause of their challenges.
For the most part, it was all down to poor planning. Without carefully assessing their needs, these companies had invested heavily in wireless networks and products that didn't suit them. But it's not all doom and gloom. We've also witnessed wireless and mobile technologies accelerate growth and propel businesses to the next level.
So, what makes the difference? From experience, we learned that the key to fast, secure WiFi systems is leveraging managed WiFi subscriptions known as WiFi-as-a-Service (WaaS).
At Pure IT, our focus is on providing reliable Wireless Networking Support in Calgary.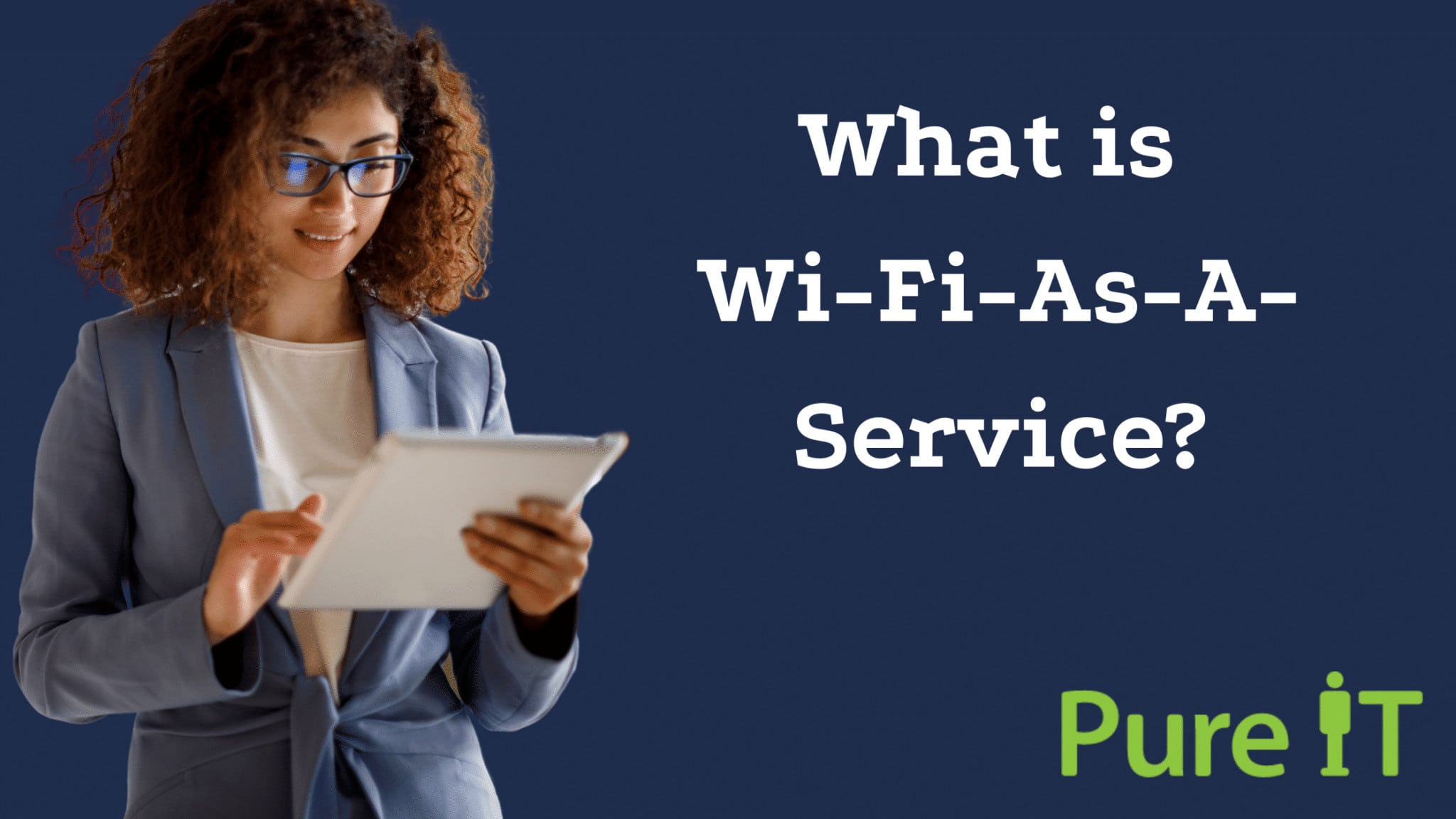 So, What Is WiFi-as-a-Service?
WiFi-as-a-Service is a subscription-based service that integrates three essential components:
Software: This includes centralized network management, real-time visibility, business intelligence selections, customized captive portals, location-services, and reporting.
Infrastructure: All of the equipment and hardware, including access points, firewalls, and even ISPs whenever required.
Managed services: Around-the-clock monitoring and troubleshooting in case of configuration problems, firmware upgrades, and executive dashboards with monthly/weekly reporting. The list is long.
How Does WiFi-as-a-Service Work?
We offer flexible WaaS plans designed to cater to our clients' unique connectivity needs. You could choose between two primary models:
If your organization is large enough and you wish to own your infrastructure, you could make a large, one-time hardware purchase. You would then follow this with a monthly managed services subscription.
This is the one we recommend. Why? As you'll soon find out, this model addresses the limited life-cycle of a high-quality wireless network and its connected devices.
Why Choose Pure IT To Support Your Wireless Networks?
Choosing the subscription model will allow you to avoid the many shortcomings of enterprise-grade wireless networks, such as:
Expense: This is, by far, the biggest obstacle. The initial capital investment for purchasing the equipment and software for an enterprise-grade network is quite large. And even once it's been deployed, there are substantial running costs associated with employing qualified technicians to perform maintenance. With WaaS, you can buy everything you need; however, tight your budget may be.
Short Life Cycle: Think about how frequently you upgrade your smartphone. Is it every 12 months? Or less? No one wants to be left behind by rapidly advancing tech, right? It takes just three years before wireless networks become obsolete. Whatever infrastructure you might own would have to be replaced entirely. Of course, this is a stressful and expensive undertaking. WaaS makes upgrading is convenient and straightforward, ensuring your systems are always up-to-date.
Security: In previous times, it used to be possible to control every device on your wireless network. But not anymore. With millions of devices connected across the globe, network security has become a key concern. Although you can't own all devices connecting to your network, it's essential to know what they are up to. With WaaS, you can rest assured your IT Company has you covered with the latest wireless security infrastructure and best practices.
Expertise: More likely than not, your in-house IT team lacks the technical know-how needed to deploy and maintain your network. While wireless is a highly-specialized skillset, at Pure IT, that's what we do every day! It's much more convenient to enlist the services of an IT Company with a fully staffed team of technology experts. Hiring your own IT experts just doesn't make any financial sense.
Ready For A Reliable Wireless Networking Company?
Subscription-based models are just the way to go nowadays. Our experienced technology professionals are eager to help your business exploit WaaS for a secure, stress-free, affordable network. Contact us now to get started.