Calgary Real Estate Developer Builds Solid IT Foundation With Pure IT
If you are in the real estate development business, you must already know that the competition in this market is cutthroat. Deals can roll in at any time and need to be closed quickly, customers expect to get high-quality services for their investment, and you have to ensure that your operations are running smoothly.
On top of this, you have to deal with the increasing number of technologies in this industry and the ever-increasing threat of cyberattacks, which can cause financial and reputation damage to your business.
So, how can Calgary real estate developers ensure that their workflows are uninterrupted and that their operations are streamlined? By partnering with Pure IT, we will ensure that your real estate development company's systems, applications, and networks are secure and running efficiently.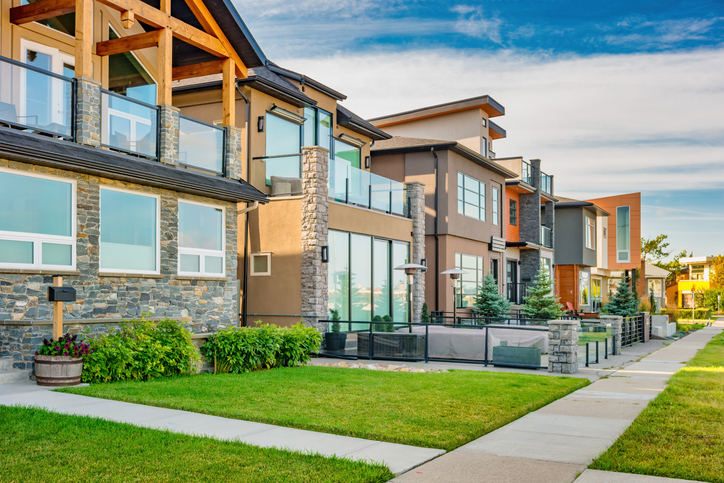 IT Services That Pure IT Offers to Calgary Real Estate Developers
1. Managed IT Services 
No two businesses have the same IT needs. Pure IT offers a range of best-fit managed IT services and support plans that can help real estate developers meet their needs. Among the managed IT services available in our portfolio include:
2. Cybersecurity Services 
Cyber threats are becoming more sophisticated by the day. No organization, regardless of the industry or size, is safe from this threat. For this reason, cybersecurity services need to be on top of the list of every business.
As cyber criminals come up with new ways of breaching networks, businesses need robust security solutions to reduce exposure to cyber threats. A successful cyberattack can compromise sensitive information and therefore put your business in jeopardy. Partnering with a reliable IT provider can help you implement sound security measures to protect your networks.
Pure IT can deliver comprehensive cybersecurity solutions to Calgary real estate developers to protect them from phishing, malware, and ransomware attacks. Our premium solutions fend off cybercriminals, thereby providing much-needed peace of mind.
3. Cloud Services 
Cloud computing is perhaps one of the most flamboyant tech innovations of the 21st century. Cloud technology enables organizations to run software programs without having to install them on their computers. It also enables organizations to store and access data via the internet.
Given the numerous problems such as the maintenance of expensive hardware that real estate developers face today, they need to migrate their businesses to the cloud.
Pure IT offers Microsoft Azure cloud services. We can help you implement this cloud environment to fit your business's unique needs. Depending on what your goals are, the range of Microsoft Azure's apps can be broad and narrow. We will help you identify the right products and services for your business. We are ready to revamp your business with current cloud technologies and optimize Microsoft Azure in order to make sure that you get the most benefit from it.
4. Network Support Services 
In order to remain competitive in the real estate industry, businesses need to meet their IT needs. Today, real estate development companies are taking advantage of network support services to address their network concerns.
When your business's network is down, you stand to lose revenue. You need a reliable network support provider to bring your systems back to speed. And that's Pure IT for you. We provide fast, personalized network support round the clock to ensure that your network is always up and running.
5. Outsourced IT Support 
Outsourced IT support can help you attain your goals by cutting down on your IT expenses, providing expert services, as well as affording you the time to focus on your core business functions. Pure IT provides reliable outsourced IT services in Calgary to help your organization achieve its goals. We are an outsourced IT provider you can trust.
What Benefits Can Calgary Real Estate Developers Get From Our IT Services?
1. Streamlined Communication
Real estate developers often need to divide their time between checking properties with various clients and taking care of office operations. There are also times when developers need to work from their homes. If you partner with Pure IT, we will make life easier for you by providing you with more streamlined communication using tools such as VoIP. Thanks to this communication solution, your staff will be better able to communicate with clients and each other. The best thing about VoIP is that it is more cost-friendly compared to conventional methods of communication.
2. Cost Reduction 
Profit is the most important thing for any business. One of the best ways of earning more profits is to save on costs. Partnering with an IT provider can help cut the costs of IT operations. If your IT costs are fluctuating, then it is the best time to shift to a dependable IT provider like Pure IT.
3. Improved Efficiency 
How efficient a real estate developer is, determines how successful they become. Pure IT will help provide better value for your business. Given that our IT services are automated and standardized, they will help your employees become more efficient in accomplishing their tasks. Moreover, with our services, your staff can focus on attaining your business's core goals. All your IT needs will be taken care of by our IT experts.
4. Uninterrupted Online Presence 
In the prevailing real estate business environment, it is crucial that real estate developers have round-the-clock online presence. Suppose a client can't access your website, they may opt to visit your competitor's website. Pure IT offers 24/7 support and will ensure that your online presence is uninterrupted. We will monitor your network to ensure that there aren't any vulnerabilities that could lead to downtimes.
5. Storage Options and Document Management 
Nearly all real estate developers need someone to handle their document management tasks. They have sensitive files and data they need to keep safe. Pure IT will ensure that your data is secured in the cloud and also stored offsite. With this comprehensive storage, you'll be able to gain access to them even when your business becomes a victim of a data breach event.
6. Access to New Technology 
Pure IT technicians not only have the expertise to implement new technology, but they can also help you with the procurement of new IT infrastructure. They will assess the risks of the latest technology and determine whether it can help meet your business needs. They will then advise you accordingly on whether to purchase it.
Partner With Calgary's Leading IT Services Provider
With over 20 years of experience in offering premium IT services for Calgary businesses, Pure IT knows how to handle the IT needs of businesses across various sectors. As such, you can trust us to deliver cutting-edge IT services for your real estate business. Contact us today to get started.