Network Infrastructure Support & Services In Calgary, Red Deer & Southern Alberta
As the world increasingly relies on technology, businesses must have a reliable and secure network infrastructure. Pure IT understands the importance of a functioning network and utilizes best-in-class products to ensure that our client's networks are bulletproof.
We can minimize downtime and maximize security by using only the highest quality products. In today's competitive market, businesses must have a reliable network infrastructure.
Pure IT is dedicated to ensuring that our client's networks are Bulletproof.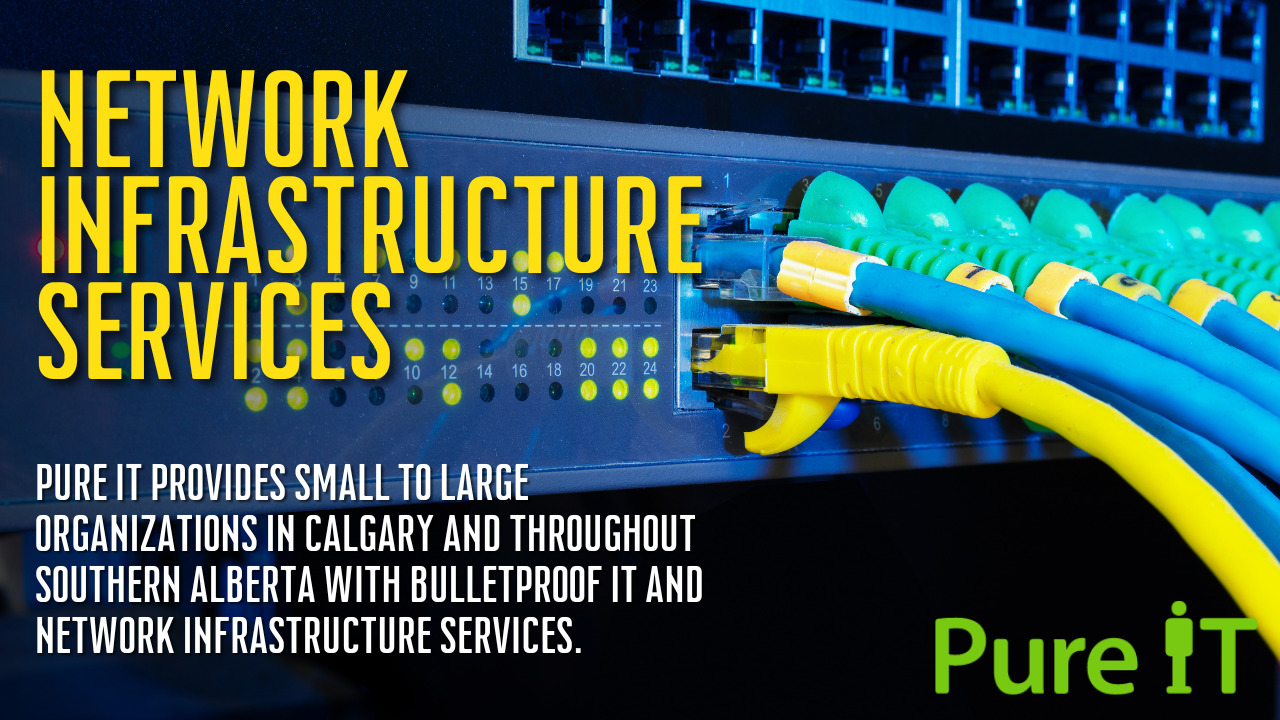 Only The Best Network Infrastructure Support For Alberta Businesses
Pure IT is proud to partner with industry leaders to provide best-in-class, award-winning Network infrastructure. By partnering with leading companies, we can offer our clients the most up-to-date and innovative solutions.
Our partnerships allow us to offer a wide range of services, from simple data networking to complex network security. In addition, our partnerships give us access to the latest technology and the ability to custom-build solutions to meet the specific needs of our clients.
Our goal is always to provide our clients with the best possible service and comprehensive solutions. With our team of experts and our partnerships with industry leaders, we are confident that we can exceed your expectations.
Network Switches & Routers
Switches and routers are fundamental products that enable communication. These indispensable devices play a vital role in any business by creating and connecting networks. Furthermore, they can connect computers, phones, lights, cameras, and servers within any series of buildings. Because of this, your network depends on the quality of your switches and routers.
We only offer the best in the business Cisco Meraki, HP, and Netgear.
We have been priority one for switches and routers since 2002 because our focus has always been on the customer.
Our dedication to providing excellent customer service and support will ensure that your switch or router will run flawlessly for years to come. As technology advances, we will continue to update our inventory so you can be confident you're getting the latest and greatest products available on the market.
Contact us today to learn more about how we can help you get connected.
Firewalls And Network Security
Superb connectivity shouldn't come at the price of security.
In truth, we aim to ensure you don't have to sacrifice quality on either end of the spectrum. That's why we work with only the best network firewall services to bring you the best protection without sacrificing communication.
Pure IT's network security services boast the top of line network security and network protection. They all protect against threats over both wired and wireless connections. So whether you're looking for a comprehensive solution or want to shore up a few weak spots, we can help you find exemplary service.
Because we believe that an effective network security strategy is constantly evolving, we keep up with the latest changes and trends so that you can too. Contact us today to learn more about our network security services and how they can keep your business safe.
Wireless Networking Services
A wireless LAN (WLAN) is a type of local-area network that uses high-frequency radio waves instead of cables to communicate between devices. A WLAN allows devices such as laptops, tablets, and smartphones to connect to the Internet and share resources without needing physical wired connections.
As businesses increasingly adopt BYOD (bring your own device) policies, the demand for WLANs has grown exponentially. To support a robust and reliable WLAN, companies must invest in a network infrastructure that includes wireless and wired connections.
Cisco Meraki offers various switches designed for easy deployment and supports both types of connections. In addition, Cisco Meraki also offers range extenders to ensure that your WLAN has the coverage you need. By investing in comprehensive network infrastructure, you can be sure that your business is prepared for the future.
Work With Pure IT Today As Your Network Infrastructure Team In Calgary, Red Deer, and Southern Alberta
At Pure IT, we understand that your business is reliant on technology. We offer Managed Services to help you maintain secure and efficient network infrastructure. Our team of experts will work with you to assess your needs and develop a personalized plan that meets the unique demands of your business. We'll also provide ongoing support to ensure your network functions smoothly.
With our Managed Services, you can focus on what you do best and leave the tech support to us. Contact us today to get started!
Pure IT provides IT services in Red Deer, Calgary, Okotoks, Airdrie, and Southern Alberta. Speak with us today to experience bulletproof IT services from Alberta's top IT services company.